It goes without saying that our day-to-day lives have changed.
We believe the most meaningful changes are those we make together.
Speak with us to learn how we can support your financial needs.
For over 150 years, we've embraced openness. It's a philosophy that rings true everywhere we go. And Canada's no exception.
Being different is embraced here.

Thinking different is rewarded here.
And respecting different is valued here.
That's why we believe the best path forward is the path we take together. Whether you want to open a bank account or simply open up to new possibilities, we are open to you.

Thinking global and being local
No other Canadian bank has our global scale and no international bank has our local presence in Canada. That's why we see banking differently. Our open and diverse perspective on banking means we can see the bigger picture. We bring you the best calibre of our people, exclusive offers and a unique collection of products and services that serve your needs for today, tomorrow, and into the future.

Unparalleled Expertise
Our unmatched globally experienced network means our people are in a unique position to understand your needs and what matters to you.

Innovative Products & Solutions
Our international perspective allows us to challenge the conventional ways of thinking. That means more innovative products, solutions, rates and offers for you – the increasingly savvier customer.

Unmatched Global Connectivity
Our global reach lets you seamlessly manage your money all over the world — whether you're moving to Canada, moving away, balancing life in multiple countries, or just love to travel.

Product offerings to help open up your world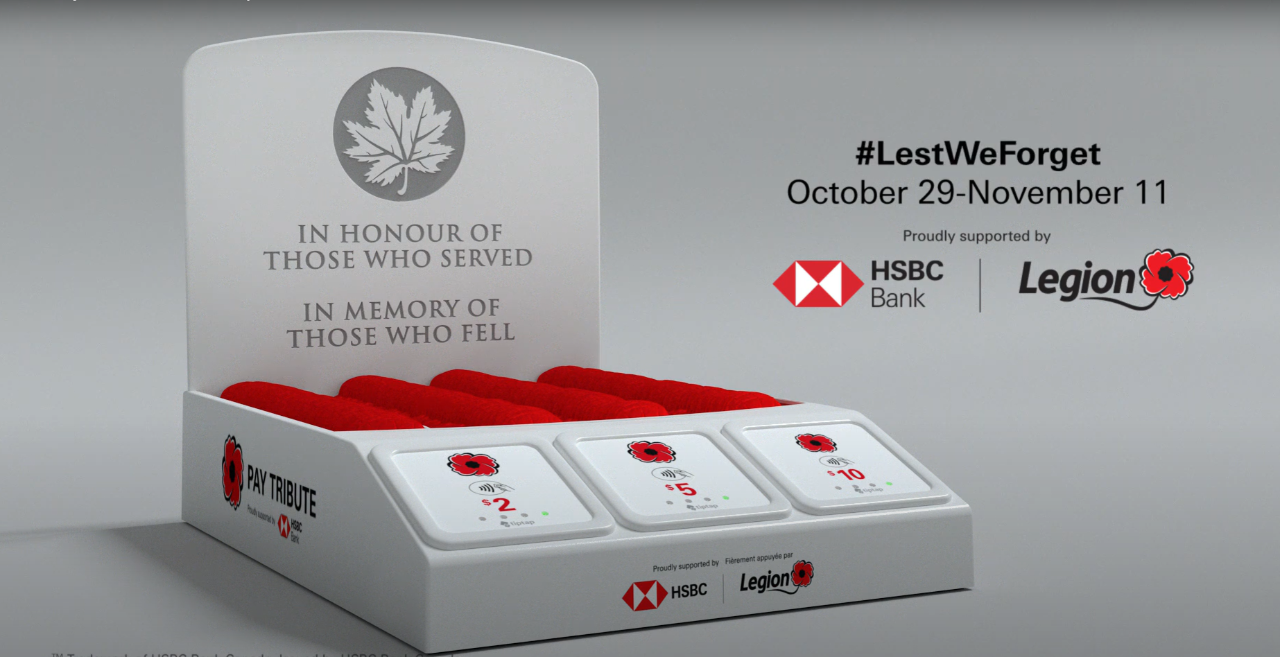 The Royal Canadian Legion exists to serve Veterans – including current military and RCMP members and their families – to promote Remembrance, and to serve our communities and our country.
Each year leading up to Remembrance Day, on November 11, the Royal Canadian Legion's Poppy Campaign distributes Poppies and gathers donations to support Canadian Veterans and their families.
This year, HSBC Bank Canada has once again proudly partnered with The Legion to make it safer, more secure and easier than ever to donate and wear a Poppy with touchless, tap-enabled Pay Tribute™ Poppy donation boxes.
Starting October 29, a total of 1,000 Pay Tribute™ Poppy boxes will be available at HSBC branches, Legion branches and select retailer locations across the country. Find the one closest to you.
Just place your tap-enabled payment card or mobile payment device on top of the Pay Tribute box to donate $2, $5 or $10 and take a Poppy.
That's all it takes to Pay Tribute to those who have sacrificed so much for us.
Multiple ways to get started
1 When you move your existing Mortgage to HSBC with a 5 year fixed or variable closed term or greater and you make mortgage payments from your HSBC chequing or savings account. The mortgage application must be started during the Offer Period and fully funded by HSBC within 120 days of the application start date. HSBC Mortgage Cash Back Offer Terms and Conditions.
™ Trademark of HSBC Bank Canada