An introduction to Private Investment Management
HSBC Private Wealth Services (Canada) Inc. is dedicated to serving high net worth clients like you by providing discretionary investment management solutions tailored to your specific needs and objectives. We rely on our stability, global reach and presence in a wide array of markets to build globally diversified portfolios.

Your Private Investment Management team
To ensure your portfolio receives the attention it deserves, it will be managed by a team of investment professionals dedicated to unlocking the world's potential:
Your Investment Counsellor is your primary Private Investment Management contact. From the outset, he or she will devote a significant amount of time to understanding your investment objectives, time horizon and risk profile. With a full understanding of your situation, your Investment Counsellor can truly become your financial partner and help you reach your goals.

Your Client Relationship Manager works closely with your Investment Counsellor to ensure that the highest standards of communication, confidentiality and administration are maintained at all times.
Your Wealth Planner will work with you to set your financial goals. Areas of focus are: retirement planning, estate and legacy planning, education planning, and business transition planning. Your Wealth Planner also includes investment planning, which is delivered in partnership with the Investment Counsellor.
Dedicated Portfolio Managers at HSBC Global Asset Management (Canada) Limited are entrusted with the day-to-day management of your portfolio. The investment process is designed to add value to your portfolio through superior asset allocation and sector and security selection within acceptable risk tolerance levels. Investment teams situated around the world evaluate individual securities following in-depth analysis of proprietary and third-party research.
Building your ideal portfolio
After taking the time to gain a clear understanding of your investment and wealth management needs, your Investment Counsellor recommends the investment strategy most appropriate for you. Whether it's a conservative strategy that emphasizes income generation, an aggressive strategy focused on growth or something in between, your personal circumstances, risk tolerance and objectives for an investment account are set out in your Investment Policy Statement.

Managing and protecting your wealth
Whether you're looking to grow your portfolio or to preserve and protect your wealth, HSBC is your gateway to a world of opportunities

Ideal asset allocation

We believe that a portfolio's risk and performance can be effectively managed by carefully diversifying across the three principal asset classes (cash equivalents, fixed income, and equities). In determining the appropriate asset allocation for your portfolio, HSBC considers the latest macroeconomic data and trends, including an analysis of the business cycle, interest rate forecasts, foreign exchange and the global political landscape.

Carefully chosen income and equity investments

Investments in bonds, preferred equities, and mortgage-related securities are a common component of many Private Investment Management strategies because they provide regular income and stability. Your fixed-income holdings are proactively managed using a highly disciplined and structured process. When it comes to equities, your portfolio is invested in high-quality companies, diversified across industry sectors and geographic regions. Some of the key factors considered when selecting equities include: financial strength, profitability and valuation metrics, competitive positioning, quality of management and record of generating shareholder returns.

Active portfolio management

Your portfolio is proactively managed on an ongoing basis. The outlook for each asset class is regularly evaluated and each weighting within your portfolio is adjusted as required. In addition, the individual securities you hold are regularly reviewed to ensure your portfolio only contains investments we believe have the potential to perform given current market conditions and over your investment time horizon.
To learn more, download the brochure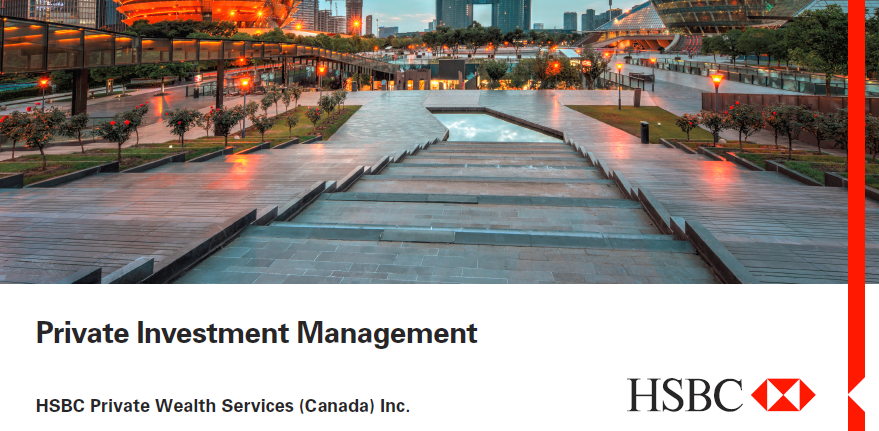 Important Information
The Private Investment Management service is a discretionary service offered by HSBC Private Wealth Services (Canada) Inc. Under this discretionary service, assets of participating clients will be invested by HSBC Private Wealth Services (Canada) Inc. or its delegated portfolio manager in securities, including but not limited to, stocks, bonds, pooled funds, mutual funds and derivatives. Commissions, trailing commissions, management fees and expenses all may be associated with the use of the Private Investment Management service. Neither the Private Investment Management service nor any of the securities purchased as part of the Private Investment Management service are guaranteed or covered by the Canada Deposit Insurance Corporation, HSBC Bank Canada, or any other deposit insurer. The value of an investment in or purchased as part of the Private Investment Management service may change frequently and past performance may not be repeated.
HSBC Private Wealth Services (Canada) Inc. is a wholly owned subsidiary of, but separate entity from, HSBC Bank Canada and provides services in all provinces of Canada except Prince Edward Island.