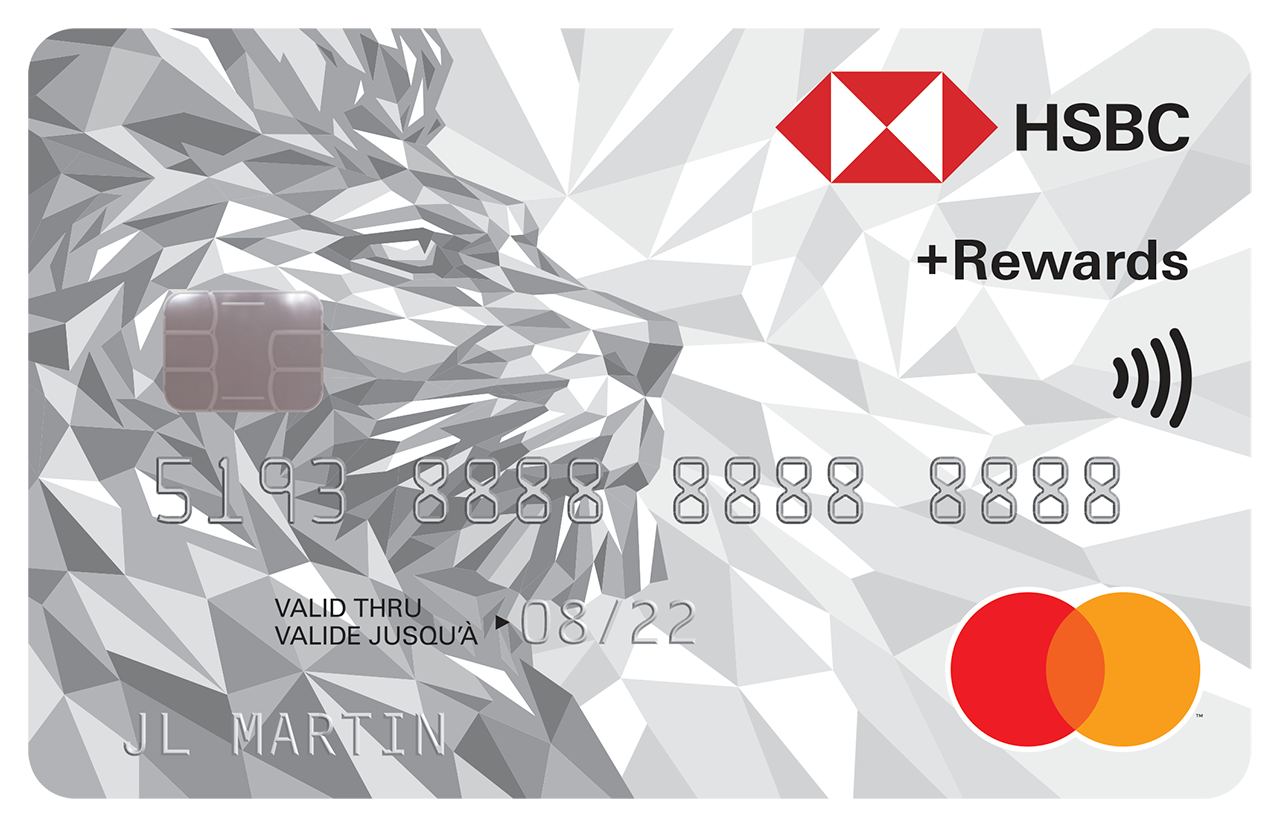 HSBC +RewardsTM Mastercard®
Apply by December 16, 2019 and earn a Sign Up Bonus of 5,000 Points
1
. Conditions Apply.
Our lowest interest rate for purchases, cash advances and balance transfers

Price Protection Service - find a lower price within 60 days of your purchase, the difference will be refunded, up to $500 per eligible item

4
Apply by December 16, 2019 and earn a Sign Up Bonus of 5,000 Points1 to get you started!
Conditions apply.
Primary Cardholder Annual Fee: $25
Annual Interest on Purchases: 11.9%
Annual Interest on Cash Advances and Balance Transfers: 11.9%
Authorized User Annual Fee: $10 Per Card
Additional Benefits
Insurance Coverage and Price Protection Service

4

Shop confidently knowing that your eligible purchases are well-protected when you make them using your HSBC +Rewards™ Mastercard®. We've got your back.
Using your card
Security and convenience

With Apple Pay, Tap & go™ and Zero protection

6

for unauthorized use of the card.

Secure account transactions

Chip & PIN technology helps reduce the possibility of your HSBC Mastercard being used by someone else.
More benefits of HSBC +Rewards Mastercard
With the HSBC +Rewards Mastercard get 2 Points2 for every $1 on eligible dining or entertainment purchases3, earn 1 Point for every $1 on all other everyday purchases5
Redeem your Points your way – The choice is yours.
Travel
Gift cards and valuable merchandise
Financial rewards
Visit rewards.hsbc.ca to learn how.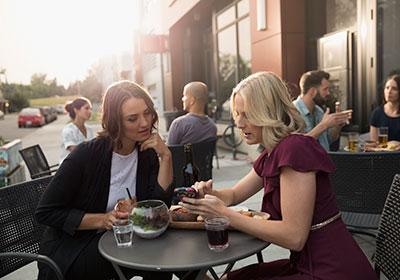 Rewards
Expanded press enter to Collapse
Collapsed press enter to Expand
Insurance
Expanded press enter to Collapse
Collapsed press enter to Expand
Important Documents
Expanded press enter to Collapse
Collapsed press enter to Expand
How to apply
To qualify for the HSBC +Rewards Mastercard, you must:

Be a Canadian resident.
Be the age of majority in your province of residence.
1 You can receive a sign up bonus of 5,000 Points if you keep your Account open for 90 days from your new account opening or upgrade from an HSBC Mastercard with an optional rewards program. Upgrades from any other HSBC Mastercard types are not eligible. This offer applies to approved HSBC +Rewards Mastercard accounts for which an application is received between April 1 and December 16 2019 and is not available for other types of HSBC credit cards. The Points under this offer are in addition to the Points earned on the eligible purchases at the earn rate listed in the HSBC Plus Rewards Program Terms and Conditions. The additional Points will be awarded on the day which is 90 days after the account opening or upgrade, will be credited in accordance with the Terms and Conditions of the HSBC Plus Rewards Program and will appear in your HSBC Rewards Account within two statement periods of the day they are awarded. Your account must be open and in good standing on the day the additional Points are credited. This offer may be changed, withdrawn or extended at any time and cannot be combined with any other offer, except the offers described here and offers that state that they can be combined with other HSBC credit card offers. The HSBC Plus Rewards Program Terms and Conditions apply.
2 Customers enrolled in the HSBC +Rewards Program earn Points for eligible purchases charged to their HSBC +Rewards™ Mastercard® account, less credits for returns, refunds and adjustments. The earn rate for Points is: i) 1 Point for every $1.00 in eligible purchases, ii) 2 Points for every $1.00 in eligible dining and entertainment purchases, iii) any special bonus Points offer that we may offer and for which you are qualified.

3 Eligible dining and entertainment purchases mean eligible purchases made from merchants that are classified in the Mastercard network as restaurants, bars, nightclubs, fast food restaurants, movie theatres, theatre producers, ticket agencies, bands, orchestras, professional sports clubs, sports promoters, tourist attractions, aquariums, zoos, amusement parks, video game arcades, billiards, bowling alleys, video entertainment rental stores or recreational services. Some merchants may sell dining and entertainment services but are classified in another manner; purchases from such merchants are not treated as "Dining and Entertainment Purchases." The eligible merchant categories for "Dining and Entertainment Purchases" may change without notice.

4 Insurance coverage is underwritten by American Bankers Life Assurance Company of Florida (ABLAC) and/or American Bankers Insurance Company of Florida (ABIC). ABLAC, ABIC, their subsidiaries, and affiliates carry on business in Canada under the name of Assurant®. ®Assurant is a registered trademark of Assurant, Inc. Price Protection Service is a service only and not an insurance benefit. Details of coverage, including definitions, benefits, limitations and exclusions, are in the Certificate of Insurance and Statement of Service provided with your Cardholder Manual or subsequent to enrollment in the optional Travel and Medical insurance.

5 Eligible purchases means purchases of goods and services that are charged to your Account, except for quasi-cash transactions (which include purchases of wire transfers, travelers cheques, foreign currency, money orders, payments of existing debts, bets, lottery tickets and gaming chips), less any credits for returns, rebates or adjustments. Cash advances (including balance transfers and cheques), optional services and interest charges or fees do not qualify as eligible purchases. See the HSBC +Rewards™ Mastercard® Cardholder Manual for further details.

6 Zero Liability applies to purchases made in store, by telephone, online or via a mobile device or ATM transaction. We will not hold you responsible for unauthorized use if: i) you have used reasonable care in safeguarding your card and any related information, including Personal Identification Number (PIN) or password, and have not contributed to any unauthorized use of your card, PIN, account number or cheques; and ii) you report to us any actual or suspected loss, theft or unauthorized use of your card, PIN, account number or cheques immediately after becoming aware of it.

Apple, the Apple logo, and Apple Pay are trademarks of Apple Inc., registered in the U.S. and other countries.
®/TM Mastercard and Cirrus are registered trademarks of Mastercard International Incorporated. Used pursuant to license.
TM HSBC +Rewards is a trademark of HSBC Group Management Services Limited. Used pursuant to license