Benefits of Managed Solutions
Having the right mix of investments in a portfolio is key to maximizing your return potential, while minimizing risk. Managed Solutions give you the flexibility and peace of mind that come from a diversified portfolio of asset classes for every type of investment objective and risk tolerance.
Bundle up to match your investment goals
Just like deciding on a TV bundle service, you may be inundated with choices when it comes to selecting investment solutions. Leave the decision-making to the experts! By opting for a bundle of investments, you don't have to choose individual funds to include in your portfolio. With an all-in-one managed solution, you also benefit from ongoing professional money management, including proactive response to changing market conditions. This ensures your investment remains inline with your financial goals and tolerance for risk.

Something for everyone: Choose from five investment options
In general, investors who have a longer timeframe to reach their financial goals or a higher tolerance for risk can benefit from a diversified mix of investments focused on capital appreciation. These investors have more time to ride out the market's ups and downs and can benefit from the potential for higher returns in the long term. Investors with shorter investment time horizons, or a lower risk tolerance, may opt for a more conservative investment mix to reduce fluctuations in portfolio returns and help preserve their assets.
At HSBC, our suite of Managed Solutions offers a variety of investment risk profiles from Conservative to Aggressive Growth. Our range of solutions meets the needs of various types of investors.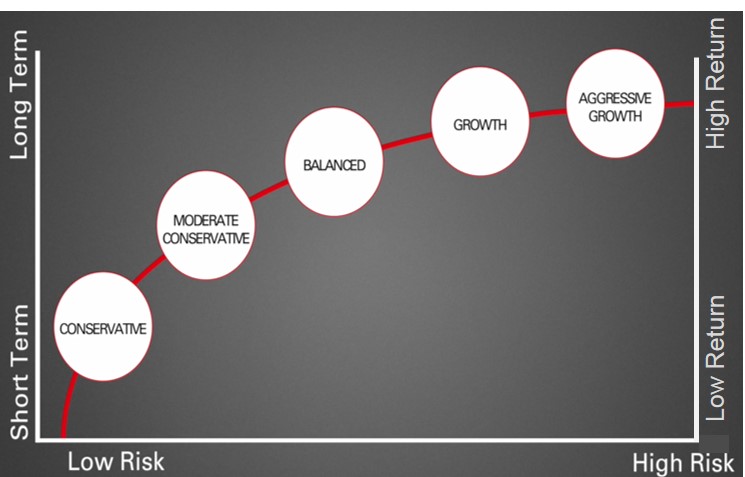 Source: HSBC Global Asset Management (Canada) Limited, 2020. For illustrative purposes only.

Common denominators of successful investing
Constructing a Managed Solution requires a deliberate and precise investment process that may follow three essential steps:
1. Strategic asset allocation
What: Refers to a long-term portfolio strategy that involves choosing asset class allocations and periodically reviewing these allocations.
How: Strategic asset allocation supports a diversified portfolio by providing access to a mix of asset classes and investment styles. Our Portfolio Managers help recommend an optimal "bundle," or asset mix, to meet individual investment goals and risk tolerances. They monitor the portfolios and proactively make changes to them so you don't have to.
Why: Choosing the right asset allocation is one of the most important investment decisions, so it's crucial to get it right from the get-go. The asset allocation recommended to investors like you, should reflect your financial goals and the risk level that you are comfortable with — giving you the peace of mind to stay calm and remain invested even during times of market volatility.
2. Tactical asset allocation
What: This is the process of periodically adjusting the weightings of assets in a portfolio and buying or selling assets to maintain the desired level of investment risk and return expectations.
How: Our "boots-on-the ground" investment experts, located in 25 countries around the world, provide Portfolio Managers with insight to regularly evaluate and implement the best asset mix adjustments (buying and selling) in the short term.
Why: Portfolio Managers can capture emerging opportunities and protect against potential emerging risks, while keeping your portfolio within your risk profile and investment objective. You won't have to worry about rebalancing your portfolio when markets experience significant fluctuations because it's done automatically.
3. Implementation
What: This is the assessment of the most appropriate method of fulfilment for each asset class within a Managed Solution.
How: Implementation requires selecting investment vehicles with different management styles such as Active and Passive strategies.
Why: Portfolio construction is not a one-and-done deal — it requires ongoing assessments and adjustments due to changes in the industry, investment landscape or as market conditions dictate.