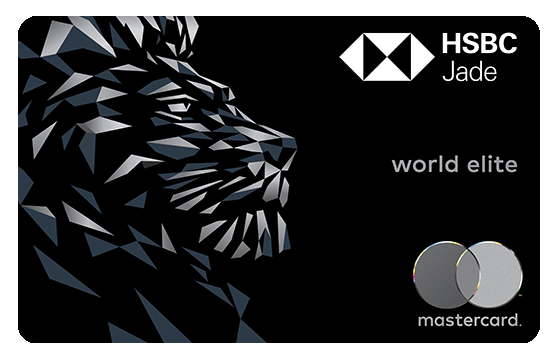 HSBC Jade World Elite® Mastercard®
Get the rewards and benefits you've earned, with a credit card that suits your global lifestyle.
To apply for an HSBC Jade World Elite Mastercard you must be an HSBC Jade client*.
Annual fee: $299++ (As an HSBC Jade client, you receive an annual fee rebate)
Additional/supplementary cards: $0
Annual Interest rate: 19.9% for Purchases, 22.9% on Cash Advances and Balance Transfers.

View the Rates and Fees Information Box for details

Make an appointment to speak with us.
Call 1-866-665-5233

With the HSBC Jade World Elite® Mastercard® you earn 3%1 in travel rewards on all eligible travel purchases2 (6 Points per $1) and earn 1.5% in travel rewards on all other eligible purchases3 (3 Points per $1).
Enjoy maximum flexibility and redeem your Points on your terms for
Travel
Gift cards and valuable merchandise
Financial rewards
Rewards for miles4

.
Please visit our HSBC rewards website rewards.hsbc.ca for more information.

No foreign transaction fees*
$200 travel enhancement credit
31-day travel insurance coverage
Additional travel benefits
Receive a complimentary membership to Travel Pass provided by DragonPass with your HSBC Jade Mastercard and enjoy unlimited access for the cardholder and one guest at no extra cost to over 1,300 airport lounges worldwide.
Please note that there will be a fee of US$32 (or foreign currency equivalent) per person for any additional guests over the complimentary allotment for each visit.
In addition, HSBC Jade World Elite Mastercard cardholders can relax, enjoy and refresh as they wait for their flight with select food experiences, relaxing spa treatments and retail discounts.
To find out more about Mastercard Travel Pand to enjoy the dining, retail and spa offers, please register on the Mastercard Travel Pass app from Google Play or App Store, or visit https://mastercardtravelpass.dragonpass.com.

Mastercard Travel Pass provided by DragonPass
Discover a world of savings with Expedia and Agoda
Get unlimited Wi-Fi through Boingo at over 1 million hotspots worldwide
Extensive insurance5 coverage
As an HSBC Jade World Elite Mastercard cardholder, you can travel with peace of mind. Receive emergency travel medical coverage for you (as the primary cardholder), your spouse and dependent children traveling with you, up to a maximum of $1,000,000 per insured person. You are covered for up to 31 days per trip each time you travel. This coverage is available for the primary cardholder and spouse and/or dependent children, under age 65. Please note that travel in Cuba is not covered.

Worldwide Emergency Travel Medical insurance
Baggage Delay or Loss insurance
Trip Cancellation and Trip Interruption/Delay insurance
Purchase Assurance and Extended Warranty Insurance
Security and convenience
Important Information about the HSBC Jade World Elite Mastercard
To apply for an HSBC Jade World Elite Mastercard, you must:
Be an HSBC Jade client*. For full details regarding eligibility, please refer to the terms and conditions for HSBC Jade available online at hsbc.ca/jadeterms.

Have a minimum annual gross personal income of $80,000 or a minimum annual gross household income of $150,000

Be a permanent Canadian resident and have reached the age of majority in your province/territory

The HSBC Jade World Elite Mastercard is subject to credit approval.

If you are not an HSBC Jade client or prefer a different card, you may be eligible to apply for another HSBC Mastercard which has different rates, fees and benefits. Speak to an HSBC representative or visit hsbc.ca for more information.
*HSBC Jade is available exclusively to HSBC Premier customers. To qualify, customers need to hold in CAD with HSBC Bank Canada (i) a minimum of $1 million in personal deposits and investments or (ii) both a minimum of $500,000 in personal deposits and investments and personal residential mortgage balances of at least $1,500,000. Full terms and conditions are available at hsbc.ca/jadeterms.

+ Learn more about these new benefits, and their restrictions, conditions and availability here. The term "foreign transaction fees" is a substitute for Foreign Currency Conversion charges.
++$299, to be charged when your card is first issued and to be shown on your first statement (regardless of activation) and annually on the anniversary of your Account. If, on the date the annual fee is charged, you are an HSBC Jade client, the Account will be eligible for a $299 rebate of the annual fee.
1 Points earned on eligible travel purchases can be redeemed for rewards valued at up to 3% of the amount spent to earn them, and Points earned on all other eligible purchases can be redeemed for rewards valued at up to 1.5% of the amount spent to earn them. For example, $5,000 in eligible travel purchases earns you 30,000 Points, which can be redeemed for travel rewards valued at $150. Other rewards that require 30,000 Points for redemption may be valued at less than $150. Redemption offers may change from time to time.
2 Eligible travel purchases mean purchases made from merchants that are classified in the Mastercard network as airlines, car rental agencies, hotels, cruise lines, passenger railways, tour operators, timeshares and travel agencies. Some merchants may sell travel services but are classified in another manner, therefore, purchases from such merchants are not considered to be eligible travel purchases.
3 Eligible purchases means purchases of goods and services that are charged to your Account, except for quasi-cash transactions (which include purchases of wire transfers, travelers cheques, foreign currency, money orders, payments of existing debts, bets, lottery tickets, and gaming chips), less any credits for returns, rebates or adjustments. Cash advances (including balance transfers and cheques), optional services, interest charges or fees, do, not qualify as eligible purchases. See the HSBC Jade World Elite Mastercard Cardholder Manual for further details.
4 In order to participate in the HSBC Rewards for Miles Program (the "Miles Program"), you must first be a member of a participating airline frequent flyer/travel reward program and enrolled in the HSBC Jade World Elite Rewards Program. Airline/travel reward program participation in the Miles Program and the conversion rate is subject to change from time to time. The number of Points that can be transferred in the Miles Program may be subject to a minimum or maximum, as specified at rewards.hsbc.ca.
5 Insurance coverage is underwritten by American Bankers Life Assurance Company of Florida (ABLAC) and/or American Bankers Insurance Company of Florida (ABIC). ABLAC, ABIC, their subsidiaries and affiliates, carry on business in Canada under the name Assurant®. ®Assurant is a registered trademark of Assurant, Inc. Details of coverage, including definitions, benefits, limitations, and exclusions, are in the Certificate of Insurance provided in your Cardholder Manual.
6 Apple Pay works with iPhone 6 and later in stores, apps, and websites in Safari; with Apple Watch in stores and apps; with iPad Pro, iPad Air 2, and iPad mini 3 and later in apps and websites; and with Mac in Safari with an Apple Pay enabled iPhone 6 or later or Apple Watch. For a list of compatible Apple Pay devices, see https://support.apple.com/km207105.
7 Zero Liability applies to purchases made in the store, over the telephone, online or via a mobile device and ATM transactions. We will not hold you responsible for unauthorized use if: 1. You have used reasonable care in safeguarding your Card and any related information, including Personal Identification Number (PIN) or password, and have not contributed to any unauthorized use of your Card, PIN, Account number or Cheques; and 2. You report to us any actual or suspected loss, theft or unauthorized use of your Card, PIN, Account number or Cheques immediately after becoming aware of it.
8 Travel Assistance Services may not be available in countries of political unrest and such countries may from time to time be determined to be unsafe and/or inaccessible.
Apple, the Apple logo, iPhone, Mac, Apple Pay, Apple Watch, iPad, iPad Air, iPad Pro and Safari are trademarks of Apple Inc., registered in the US and other countries. iPad Mini is a trademark of Apple Inc.
®/TM Mastercard and World Elite are registered trademarks and the circles design and tap & go are trademarks of Mastercard International Incorporated. Used pursuant to license.
Issued by HSBC Bank Canada