Apple Pay is the easier, safer way to pay
Enjoy all the benefits of your HSBC credit card using Apple Pay. It's the easy, secure and private way to pay.
*
How to add a card
Setting up Apple Pay is easy.
Adding your card to Apple Pay is simple. Here's how to get started.
How to pay
Pay easily and securely with Apple Pay.
Paying in stores
Apple Pay is the easiest way to pay in stores with your iPhone and Apple Watch. You can quickly check out using the devices you carry every day.
Paying in apps and on the web
Use Apple Pay to make purchases in all kinds of apps on your iPhone and iPad. Paying is as simple as selecting Apple Pay at checkout and completing the payment using Face ID or Touch ID.
Apple Pay is also the easier, safer way to pay online in Safari on your iPhone, iPad and Mac, as you no longer have to create an account or fill out lengthy forms. Simply pay and go. You can also pay on your MacBook Pro using Touch ID.*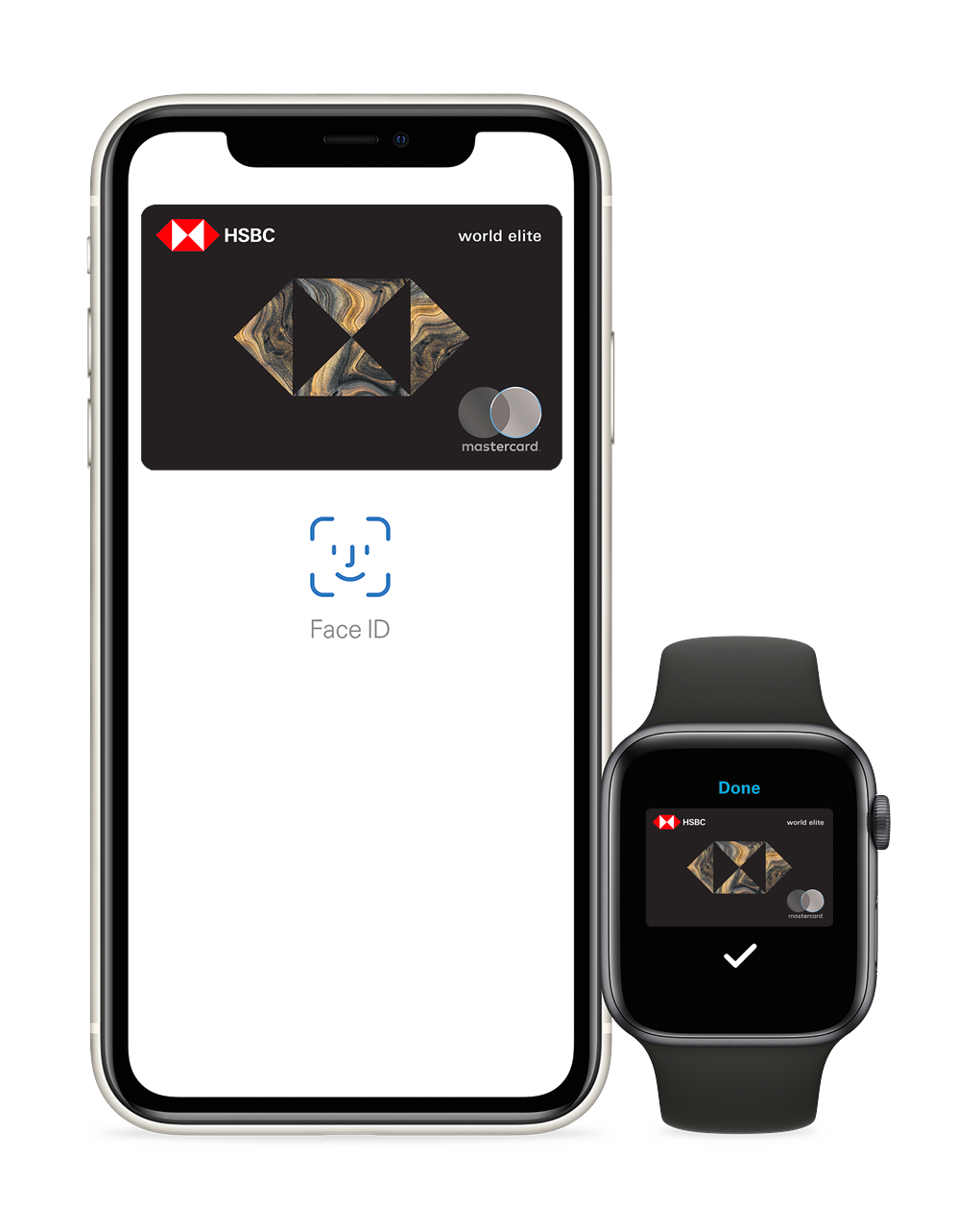 Which devices are compatible with Apple Pay?
Which HSBC credit cards can I use with Apple Pay?
How many cards can I add to my Apple Pay?
Can I add my Card to more than one Apple Pay devices?
Do I still earn Rewards points or enjoy merchant privileges for using Apple Pay?
How do I set my HSBC credit card as the Default Card for Apple Pay?
Where can I use Apple Pay?
Is Apple Pay free to use?
What should I do if I lose my iPhone, iPad or Apple Watch?
What should I do if I lose my card?
If I receive a physical replacement Card, do I need to update my Card information on Apple Pay?
What happens when I replace or update my device?
I have been prompted for a one-time passcode. What is this and why is it required?
I am encountering problems with my Apple device's hardware or software. What should I do?
What should I do if I still have questions or need assistance with Apple Pay?
®Mastercard, World Mastercard and World Elite are registered trademarks of Mastercard International Incorporated. Used pursuant to license.
TM HSBC +Rewards is a trademark of HSBC Group Management Services Limited. Used pursuant to license.

* Apple Pay works with iPhone 6 and later in stores, apps and websites in Safari; with Apple Watch in stores and apps (requires iPhone 6 or later); with iPad Pro, iPad (5th generation), iPad Air 2, and iPad mini 3 and later in apps and websites in Safari; and with Mac (2012 or later) in Safari with an Apple Pay–enabled iPhone or Apple Watch. For a list of compatible Apple Pay devices, see https://support.apple.com/km207105.

Apple, the Apple logo, Apple Pay, Apple Watch, Face ID, iPad, iPhone, iTunes, Mac, Safari, and Touch ID are trademarks of Apple Inc., registered in the U.S. and other countries. iPad Pro is a trademark of Apple Inc.