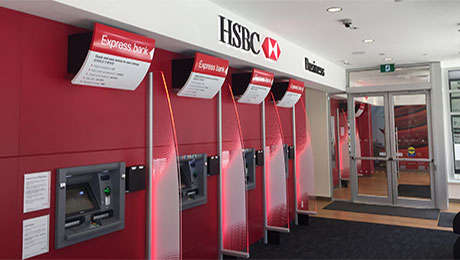 Make banking more convenient
Take advantage of our extensive HSBC ATM network to make withdrawals and deposits, transfer funds, pay your bills and more. Wherever you are in Canada, just look for THE EXCHANGE® Network logo to access our no charge ATM network.
No charge ATM network in Canada

Bank in Canada at over 3,500 HSBC and THE EXCHANGE Network ATMs from coast to coast, in every province and territory.

More locations in the U.S.

Locations worldwide

As an HSBC customer, withdraw cash from HSBC ATMs around the world.*
A personalized experience

Create your own ATM preferences for faster, simpler transactions. You can choose your language, set up your fast cash withdrawal amount, and more.

Advanced, customizable features

Such as touch-screen displays, multiple language options including English, French, Mandarin and Cantonese, voice guidance for the visually impaired and more.

A range of available transactions

Withdraw cash, including U.S. dollars at select locations, make deposits, pay bills and transfer funds, check your balances, and even set and change your PIN.
Find the nearest ATM from your smartphone
Simply download the HSBC ATM Locator app to locate an ATM, anywhere in Canada.

*You may be charged additional fees by the ATM operator or network used including a fee by another HSBC entity operating ATMs outside Canada. Foreign currency conversion rates may still apply.

® THE EXCHANGE and Accel logos are registered trademarks of Fiserv, Inc., licensed for use in Canada by FICANEX Services Limited Partnership.