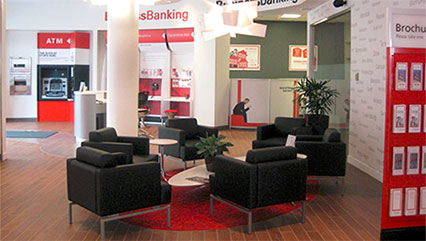 Visit your local HSBC branch - We're ready to help
Our staff can support you with a wide range of financial services from opening an account to arranging a mortgage.

We're open Evening and Saturdays. Many of our branches are also open evenings and Saturdays, so you can bank at a time that's convenient for you.
Use our branch locator to find the nearest branch. You can even refine your search to find one that opens evenings or Saturday.


Come visit us at one of our 130 locations, or book an appointment so we can find you the right person to help.

For hours and locations of HSBC Bank branches in your area, simply use our online branch locator tool.
Full range of services

Visit during regular business hours to withdraw cash, exchange foreign currencies, access your safety deposit box, open a new account and much more.

Personalized attention

We make it our goal to get to know you and your banking preferences, so that we can provide you with fast, efficient service every time you visit.
Local and global support

Receive insights to meet your needs on a global perspective.

Express banking

Use our HSBC ATMs network day or night to withdraw cash, make a deposit, pay bills, check your balances and more. HSBC ATMs support multiple languages on screen, including English, French and Traditional Chinese, and some offer both Canadian dollar and U.S. dollar withdrawals. You can also make withdrawals, deposit or change your PIN surcharge-free at over 3500 THE EXCHANGE

®1

Network ATMs across Canada.